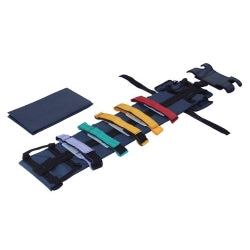 Pediatric Immobilization System
Mythology
Regular price ₱10,725.00 ₱8,000.00 Sale
The Pediatric Immobilization System is applied to child's shoulder, chest, abdomen and legs, making the child's heart comfortable and respiratory smooth.
The fastened leg and ankle straps allow for separate treatment and immobilization of legs. Can be radiolucent for X-rays.
Serves as a spine immobilizer during transport as well as a restraint system for children from 28" to 54"tall, weighting 20 lbs to 90 lbs. Sewn-in lifting handles at both ends for easy handling in confined areas. 


Unfolded Size 
(L×W×H)

Folded Size 
(L×W×H)