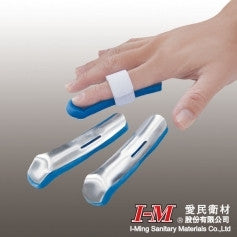 OO152 Gutter Finger Splint with Velcro Strap
I-M
Regular price ₱450.00 Sale
Gutter Finger Splint with Velcro Strap provides a stable immobilization to the fingers and is recommended for fractures, dislocations, ligament and finger tip injuries.

Features:
Soft and reshaped aluminum with foam pad, keeps comfortable.
Ideal to stabilize the fractured fingers during recovering period.
Punched splint for more ventilation on injured fingers.
Different styles and dimension are available to improve your immobilization requirements.
Measurement:
Size

Suitable Length of Finger

(Inches)

S

1 1/2

M

2 1/2

L

4

XL

6
Country of Origin:
Taiwan