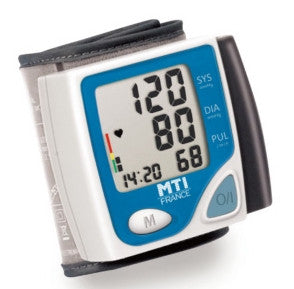 MTI732 Digital Blood Pressure Monitor (wrist)
MTI
Regular price ₱1,750.00 ₱1,250.00 Sale
The MTI732 Digital Blood Pressure Monitor (Wrist) is a portable blood monitoring device. Its compact feature is ideal for travel.
Product information :
Large LCD display with bold reading
Portable and compact design
Date/Time display
WHO blood pressure classification indication
Irregular heartbeat detector
90 sets memory
shows average of the latest 3 readings
simultaneous display of systolic, diastolic and pulse rate
one touch operation
auto shut-off
Specifications:
Measurement Range
Blood Pressure:40 to 260mmHg
Pulse: 40 to 160 beats/minute
Accuracy
Pressure:±3mmHg
Pulse:±5% of reading
Operation Temperature and Humidity
+10℃ to +40℃, 85%and below
Storage Temperature and Humidity
-20℃ to +50℃,85%and below
Power Source
2 "AAA" battery (not included)
Wrist Cuff Size
Applicable for wrist size 12.5-20.5cm
Country of Origin: China
With one year warranty.